eBook on Open Source Storage by iXsystems and ActualTech Media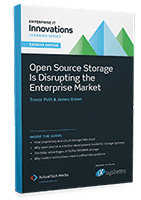 This free eBook explains how proprietary and cloud storage falls short and why Open Source is a better development model for storage systems. Learn about the advantages of NVMe/NVDIMM storage for the modern enterprise and why businesses need a unified data platform.
---
FreeNAS 11.1-U5 is now available!
FreeNAS 11.1-U5 includes various bug fixes and adds preliminary support for Self-Encrypting Drives. You can download it here.
---
How to Backup and Restore Configuration File
If you are switching over to new hardware or need to reinstall FreeNAS, nixCraft demonstrates how to back up and restore the configuration database using the GUI.
---
FreeNAS Jails, Plugins, and Storage Permissions Explained
Lawrence Systems explains FreeBSD jails, the plugin system, and storage permissions for FreeNAS in this in-depth video tutorial.
---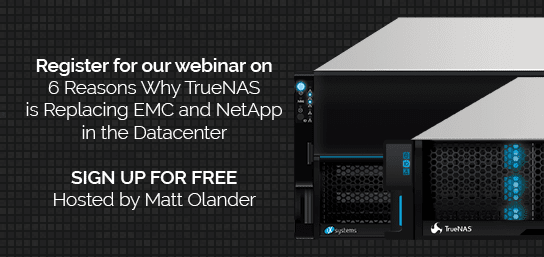 ---
OpenZFS Feature Flags
User Ericloewe describes the OpenZFS feature flags available in FreeNAS and TrueNAS.
---
Visualizing ZFS Performance
Michael Dexter, iXsystems' Senior Analyst, explains how to better understand ZFS performance challenges and opportunities using renowned performance engineer Brendan Gregg's timescale.
---
On-Demand FreeNAS Training

Online training modules from iXsystems are designed to quickly get you up to speed for getting the most out of your FreeNAS system. Each training module is 30 minutes long and cuts to the core information you need to become an expert in FreeNAS and OpenZFS.
---
Tech Tip #54
Trying to replace a drive with the same capacity drive from another manufacturer that is slightly smaller? Temporarily reduce the swap size in System → Advanced to 1 or 0 GiB and try the drive replacement again. Once it is successful, remember to change the setting back to the default of 2.
---
Links of the Month
---
Quote of the Month
"As a user of FreeNAS, I was already aware of how well FreeNAS worked for SoHo storage. When I saw the line of supported TrueNAS solutions iXsystems was putting out there, I knew we had to look further into it. Knowing that our data is correct and protected from data corruption is very important to us, which makes TrueNAS with OpenZFS a tremendous step up from other solutions." – Ari Orlinsky, Director of Information Systems, iostudio